Kingbright releases new products
6 Feb 2018
SALECOM ELECTRONICS Co., LTD releases new products
T60-T sealed toggle switch.
IP68 protection degree and 15GPA approved. Applications includes outdoor heavy equipment, for example, machinery console for cranes, excavators, tractors.
New WTM navigation switch
IP67 rating, competitive pricing. Application includes elevator detection equipment, program-controlled switches, and industrial control equipment.
T70-T toggle switch
R70 power rocker switch
SPLBL & SPL6D illuminated tact switch
Application include home appliance, communication, 3C products and IT industries.
7 Dec 2016
DOMINANT Opto Technologies announces SmartRGB LED for Automotive Ambient Lighting Applications
DOMINANT Opto Technologies has unveiled a new digital LED concept for automotive applications. The SmartRGB LED is to be based on an entirely new in-car LED ambient lighting concept that drives down costs, simplifies control, and expands the functionality of LED lighting and display solutions. This will also be the first product developed under the umbrella of IseLED, an open alliance formed to provide a full ecosystem for the new digital LED right from its very inception. The founding partners of the IseLED Alliance are DOMINANT Opto Technologies, Inova, NXP, TE Connectivity and the University of Pforzheim.
For more information:-
http://www.dominant-semi.com/press-release/66-dominant-opto-technologies-announces-smartrgb-led-for-automotive-ambient-lighting-applications
22 Nov 2016
Sonion releases the O-Series MEMS Microphones
Sonion is pleased to announce the release of the O-Series MEMS microphone in 2 very small form factors: O8 (8mm³) and O11 (11mm³).
Great Sound Quality
The O-series has been designed specifically for hearing aids: The SNR is significantly improved compared to the previous generation of MEMS microphones. In addition, the overload margin has been optimized for use at 0.9V and will reach a level of 120dBSPL with minimum distortion. The low noise and high overload margin results in an extended dynamic range for the O-Series MEMS microphone. The O-Series is designed with a peak frequency centered at 15kHz, thus preventing possible overload from ultrasonic sources at 25kHz and 32kHz

Designed with directionality in mind
Sonion trims the O11 sensitivity to an absolute value of -37dB ±1dB, which is much tighter than the ±3dB in previous generations. This tight sensitivity distribution eliminates the need for sensitivity calibration between the two microphones in a hearing aid. Combining low humidity drift and long term stability of the O-Series MEMS microphone, results in a perfectly stable directional system.

Robust Design
The O-series passes all current industry standard reliability tests and our design is optimized to survive multiple nano-coat cycles. The result is, fully assembled hearing aids can be nano-coated in production and after potential repairs without any risk in loss of sensitivity.

For further information please visit the MEMS page.

7 Jul 2016
Clover Enhanced Black TN (EBTN) LCD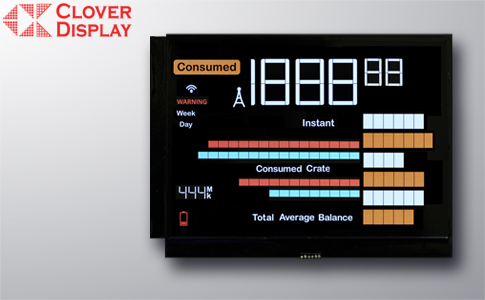 This display mode offers exceptional dark background because of its very low light leakage. The contrast ratio is up to 1000:1, exceeds that of conventional TN, STN and FSTN. Besides, it offers 3 best viewing directions in one display, in contrast of one direction for conventional display. Furthermore, its wide operating temperture capability extends the range of applications, including automatives.

Features:
Very dark background

Super high contrast (1000:1)

Wide viewing angle (3-side optimized)

Up/down: 60° / 85°

Left/right: 85° / 85°

Wide operating temperature (-40°C to 85°C)

Available in icons, 7-segment and graphic type up to 1/64 duty

No temperature compensation required
Applications:
Automotives, Audio & Video Equipments, Watches, Remote Control, Multimeters, Water Heater, Home Appliance and etc.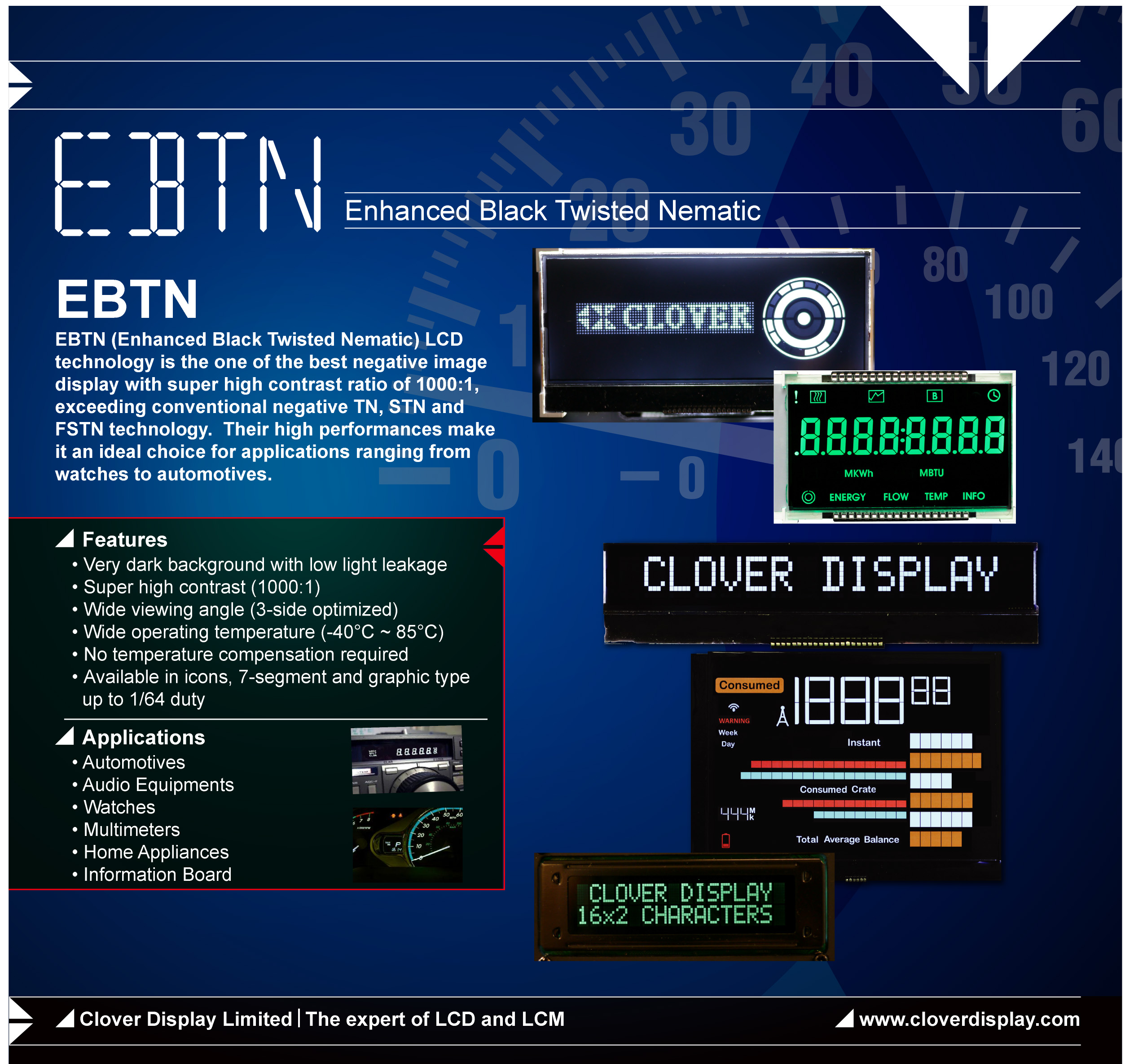 7 Jul 2016
Sonion release the N11 – Low Noise MEMS

Sonion is releasing their latest N-Series MEMS - the N11 omni/matched pair microphones.
Building on Strong N-Series MEMS DNA
The N-series has been designed specifically for hearing aids, with low current drain (17uA) and an optimized frequency response. The 65 Hz roll-off prevents overloading in the low frequencies of the N11. The improved sensitivity of the N11 (-34 dB) makes it superior to competing MEMS microphones and with the combination of lower noise it improves the signal to noise ratio. The N11 has an optimized peak frequency that is out of the ultrasonic range, unlike our competitors MEMS microphones. The result is, less sensitivity to ultrasonic sounds (e.g. motion detectors, car alarms, etc.) in hearing aid applications.


Optimized for low noise
The package of the N11 is designed to provide the lowest noise possible and it uses the same MEMS cartridge from already proven N8. The sound inlet was increased in diameter to reduce the acoustical noise. The back volume is increased by using a new cover with an optimized shape, helping maximize the internal volume of the microphone. These two optimizations result in a 2dB noise improvement at @ 1kHz (1/3 octave).

Robust MEMS microphone
The N11 is a high quality, ultra low power, analog output, bottom ported, omni directional MEMS microphone and is designed specifically for hearing aid applications. The N11 has a tiny 10.8 mm³ SMT footprint (3.35 mm × 2.50 mm × 1.29 mm). The silicon diaphragm in the N11 microphone can withstand high temperatures, enabling reflow soldering and allowing higher degrees of automation in your production environment. The N11 is very stable and has nearly zero drift characteristics in high humidity environments.

For copy of the specs click here.
Kingbright releases new mini RGB chip LEDs
Kingbright introduces their new SMD CHIP LED KPGF-1011, KPGF-0808 and KPGF-0606 series
Choice of 3 sizes of SMD LED, all 0.2mm thickness
0.65 mm x 0.65 mm - KPGF-0606
0.8 mm x 0.8 mm - KPGF-0808

1.0 mm x 1.0 mm

-

KPGF-1011

Can produce any colour in the visible spectrum, including white light.
Low power consumption
Low current IF=5mA operating.
Moisture sensitivity level: level 3
Package: 4000pcs/reel.
Common anode.
Small footprint
RoHS compliant
Summary of specifications
Part Number

Material

λD (nm)

Lens Type

Iv (mcd) @ 5mA

Viewing Angle 2θ1/2

Min
Typ

KPGF-0606GBRC-120

AlGalnP

InGaN

InGaN

624

527

467

Water clear

10

30

5

30

90

20

130°

145°

140°

KPGF-0808GBRC-120

AlGalnP

InGaN

InGaN

624

527

467

Water clear

10

30

5

30

90

20

130°

150°

150°

KPGF-1011GBRC-120

AlGalnP

InGaN

InGaN

624

527

467

Water clear

15


50

10

30

80

23

130°

150°

150°
Wavelength value is traceable to the CIE127-2007 compliant national standards
Contact us for datasheets.
Clover LCD is now ISO/TS 16949 certified
Clover Display Limited has been successfully certified according to the ISO/TS 16949 Standard by NSF-ISR. Certification is valid from 17 Aug, 2015 and the scope of registration is Design & Manufacture of Liquid Crystal Display Panels (LCD) and Liquid Crystal Display Module (LCM). Clover LCD is proud to supply you with high quality displays. Please contact us for any of Clover's products range.
Kingbright's new right angle SMD RGB LED
Kingbright introduces the KPFA-3011 series, a right angle RGB (tri-colour) surface mount chip LEDs with individual pinouts for the three colours.
Features
3.0x1.5x1.0mm right angle

SMD LED, 1.0mm thickness
Low power consumption.
Wide viewing angle.
Ideal for backlight and indicator.
Package: 2000pcs/reel.
Moisture sensitivity level: level 3.
RoHS compliant.
Each of the RGB chip can be controlled independently via the 6-pin inputs.
Blue and green chips are ESD-protected.
Summary of specifications
Part Number

Material

λD

(nm)

Lens

Type

Iv (mcd)

@=20mA

White Iv Typ.

@ RGB IF

Dice Chromaticity

Coordinates (Typ)

Viewing

Angle

2θ1/2

Min

Typ

(mcd)

(mA)

x

y

KPFA-3011BZ1RGZ1C-132/F

AlGalnP

InGaN

InGaN

624

525

470

Water

clear

400

500

55

660

780

110

1270

10.6

20.0

18.9

0.3

0.3

140°

150°

150°

KPFA-3011BZ1RGZ1C-13/F

AlGalnP

InGaN

InGaN

624

525

470

Water

clear

300

500

55

500

780

110

1250

13.9

20.0

18.7

0.3

0.3

150°

150°

155°

KPFA-3011BZ1RGZ1C-K13/F

AlGalnP

InGaN

InGaN

624

525

470

Water

clear

200

500

55

410

780

110

1180

16.6

17.9

20.0

0.3

0.3

145°

150°

155°
Contact us for datasheets with detailed specifications.
Other notes:-
The red source is AlGaInP, the green and the blue source is InGaN
Electrostatic discharge and power surge could damage the LED
It is recommended to use a wrist band or anti-electrostatic glove when handling the LEDs.
All devices, equipment and machineries must be electrically grounded.
Clover's TFT Display
Clover's TFT displays are designed to provide solutions to upgrade from standard monochrome displays. Our TFT displays' range is from 3.5" to 10" which are suitable for industrial instruments, medical equipment, automation and GPS, etc. What's more, We also provide controller board for customers to easily convert the RGB interface to MCU interface. The Mono TFT displays are with high contrast, brilliant brightness, wide viewing angle and fast response time.
STANDARD TFT LCD LIST
Model No.

Size

Resolution

Module Size
LxWxH (mm)
Active Area
LxW (mm)

Interface

Contrast

Brightness
cd/m2
Resistive
Touch
Panel
Control
Board

Color TFT

CT35C3224A

3.5"

320x240

76.9x63.9x3.26

70.08x52.56

RGB

400:1

250

√

√

CT43C4827A

4.3"

480x272

105.5x67.2x2.9

95.04x53.856

RGB

500:1

500

√

√

CT50C8048A

5"

800x480

120.7x76.3x3.1

108.0x64.8

RGB

500:1

350

√

√

CT70C8048A

7"

800x480

164.9x100.0x5.7

154.08x85.92

RGB

500:1

400

√

√

CT70C1060A

7"

1024x600

165.75x105.39x4.8

153.6x90.0

LVDS

700:1

500

√

CT10C1208A

10"

1280x800

229.46x149.1x3.4

216.96x135.6

LVDS

700:1

250

√

Mono TFT

CT35M2432A*

3.5"

240x320

62.90x86.54x4.1

53.28x71.04

MCU

TBD

TBD

√

CT57M3224A

5.7"

320x240

159.5x108.4x6.4

115.2x86.4

MCU

800:1

1200

√

CT62M6432A

6.2"

640x320

170.3x88.3x4.7

140.0x70.0

MCU

1000:1

1200
For more information, contact us.
Clover's Optical Bonding Technology
Optical bonding is a process in which a layer of transparent material such as OCA (Optically Clear Adhesive) or OCR (Optically Clear Resin) is used to fill the air gap between LCD module and cover glass or touch panel.
Clover's optically bonded display solutions are the premier choices to meet your project needs.
Optical Bonding Advantages:

1) Enhance sunlight readability, improve durability and damage resistance.

2) Enhance display's lifetime by protecting display from dust and moisture.

3) Reduce parallax effect and increase optical clarity with bright lighting conditions.

4) Keep a screen intact when the equipment is broken and assure the safety for handling.

How Optical Bonding Works
Contact us for more information
Tenrod adds Iskra's wide capacitor range to its product portfolio
Iskra offers a vast array of capacitors in numerous application-specific and customer-specific designs. Constant product improvement has resulted in components that are smaller, more reliable and more cost-effective than their predecessors.
Iskra's power capacitor range, for example, encompasses low voltage power factor correction capacitors, low voltage power factor banks, high voltge power capacitors, induction heating capacitors, HV capacitors for network tone control, and capacitors for protecting HV power switches. These components are mainly used in large energy plants.
Iskra's radio interference suppression capacitors and filters range are used in electronic household appliances such as washing machines, vacuum cleaners, tumble driers, etc. Customers in this segment include renowned white goods manufacturers such as Whirlpool, Miele, BSH.
Equipped with state-of-the-art automated manufacturing and testing facilities, Iskra produces its capacitors to the latest international standards; strict quality control is maintained throughout the entire manufacturing process. Iskra is committed to working with customers to satisfy their project needs with the best product solutions.
Kingbright reduces footprint for LEDs
SMD CHIP LED LAMP (0.2mm Height)
Features
0.65mm x 0.35mm

S

MT LED,

0.2mm

thickness
Low power consumption
Wide viewing angle
Compatible with automatic placement equipment
Package: 4000pcs/reel
Moisture sensitivity level: level 2
RoHS compliant
Part Number

Material

λD (nm)

Lens Type

Iv (mcd) @ 10mA *5mA

Viewing Angle

2θ1/2

Min

Typ

KPG-0603CGC-TT
AlGaInP
571
Water Clear
6
15
135°
KPG-0603SEC-TT
AlGaInP
605
Water Clear
20
50
135°
KPG-0603SEC-E-TT
AlGaInP
624
Water Clear
15
40
135°
KPG-0603SYC-TT
AlGaInP
589
Water Clear
10
30
135°
KPG-0603SURC-TT
AlGaInP
631
Water Clear
10
35
135°
KPG-0603VGC-TT-5MAV
InGaN
527
Water Clear
30 *
80 *
145°
KPG-0603PBC-TT-5MAV
InGaN
467
Water Clear
15 *
25 *
145°
KPG-0603PWF-TT-5MAV
InGaN
-
Yellow Fluorescent
30 *
100 *
135°
Wavelength value is traceable to the CIE127-2007 compliant national standards.
Contact us for datasheets.
Salecom T60-R rocker switch
Salecom introduces a new rocker switch with a quickmount connection
Contact Rating: 3A @125 VAC; 6A @250VAC.
Electrical Life: 10,000 cycles.
Contact Resistance: 30mΩ max. initial.
Insulation Resistance: 100MΩ min. 500VDC
For more details and data, click on drawing.

Salecom DTR series - Dust Proof Tact Switches
Salecom introduces the DTR Tact Switches range.
Sealed contact system and dustproof.
Through hole and SMD models.
Size: 8x8mm, 12x12mm.
Mechanical life: 1,000,000 cycles.
Contact rating: AC/DC 42V, 100mA.
DTR is made of Nylon 6T, with temperature resistance.
For more details and data, click on drawings.